You can depend on us to clean your sewers.  After all, cleaning is in our name.  We can clean grease and debris from your storm and sanitary sewers, catchbasins, culverts, sumps, and manholes. By hiring our professionals to clean your lines of any blockages caused by debris, grease buildups, roots, rocks, etc., the flow of water or other fluids is greatly improved. Thus, you will experience a drastic reduction in the number of emergency backups and surcharge calls.
Flushing and Vacuuming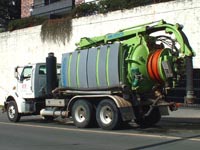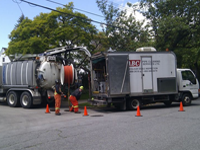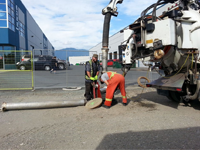 Flushing and vacuuming is primarily used for mainline sewers to clean out the grease, mud, dirt, toilet paper, and other sources of blockage. We use Aquatech and Vactor trucks to complete the job efficiently and effectively. Our trucks have a high-powered jetter and a vacuum system with a large holding tank for debris. The equipment generates water pressures up to 2500 psi at a flow rate of 80 gpm. The B10 also has a bypass feature and can pump off liquid waste while vacuuming. The vacuum feature ensures debris is not washed down the line. Nozzles of various sizes and types can be attached to the hose, allowing many pipe diameters to be cleaned.
Root Cutting
Most debris and soft vegetation can be cleaned with nozzles; however, for those larger, peskier roots, we also offer root cutting. Do you have plants growing into your pipes? Call us. We will cut the problematic roots and your future maintenance costs.
Personalized Service
Our professional staff will organize a cleaning procedure according to your needs. We always customize the process based on the type and condition of your pipes, from the nozzle to the water pressure. Contact us today for a consultation.